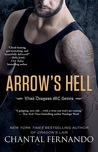 Arrow's Hell
by
Chantal Fernando
My rating:
5 of 5 stars
*ARC provided by NetGalley in exchange for an honest review*
I was excited when I got this ARC.
I can't tell you how happy this made me. When I saw is available for request and I got approved I went over the mood. I've read most of the Chantal Fernando's book and I love them all. When I finished reading Dragon's Lair, I waited and waited a long time to read arrow's story. I loved it the author really hit it out the park. I got to see the down side of arrow. Him still struggling through Mary's death until he meets someone he should have eyes for. She reawakens him. Starts making him feel. He battle with himself about if he deserves to be happy while Mary is dead. Don't worry this is tons of biker drama which I love. Thank you Chantal Fernando for making me fall in love with biker romance books!
Bravo Chantal Fernando another job well done. I'm so excited to read Tracker's story. Please please please tell me their is going to be a Rake story. He is just everything and some kink . Review will be posted up soon on
www.katifornia91.blogspot.com
View all my reviews